Bill Lucas was contacted to speak at the College as part of #ReadTL14. Unfortunately, he was unable to make it, but he could come on another date, so we booked him straight away.
It was to be the Monday after CPD week and we were worried people wouldn't attend, wouldn't see it, wouldn't still be around. So we decided to market in a bit of a different way. It began with Bill Lucas face masks and an iPad- we signed up close to another 20 people this way. We then found out that Ian had a Lewis Hamilton cut-out so we decided to make a video:
Ela Owen
made the introduction to
Bill
Lucas
and summarised all the ways in which he has conducted research in vocational education and how he has been part of the Activate Learning journey for a number of years now.
She said that she views him as more of a Teaching and Learning spiritual soothsayer, forecaster and guiding light on learning models; getting under the skin of what really matters. He uses powerful language that has real impact and meaning: learning lenses, growth mindsets and learning muscles.
Our history with Bill has been exciting and extensive:
His work with Professor Guy Claxton on 'Building Learning Power' and the 5 Rs has influenced the work of our foundation and skills for life departments.
In 2010, he introduced us to the 4-6-1 model and some cross-curriculum comparison took place within our plumbing, furniture and hair & beauty departments.
His action research models were then introduced, and he encouraged us to see research as being beyond the realms of HE Providers.
He lead a session on his then new book, 'Revolution: How to thrive in crazy times'.
In 2012, he lead us on a City and Guilds skills development initiative and engaged us in their debate on the exploration of vocational pedagogy.
Most recently, in May, he engaged us in a further debate on vocational pedagogy, with a final paper due to be published later on this month.
Here are my notes on the day: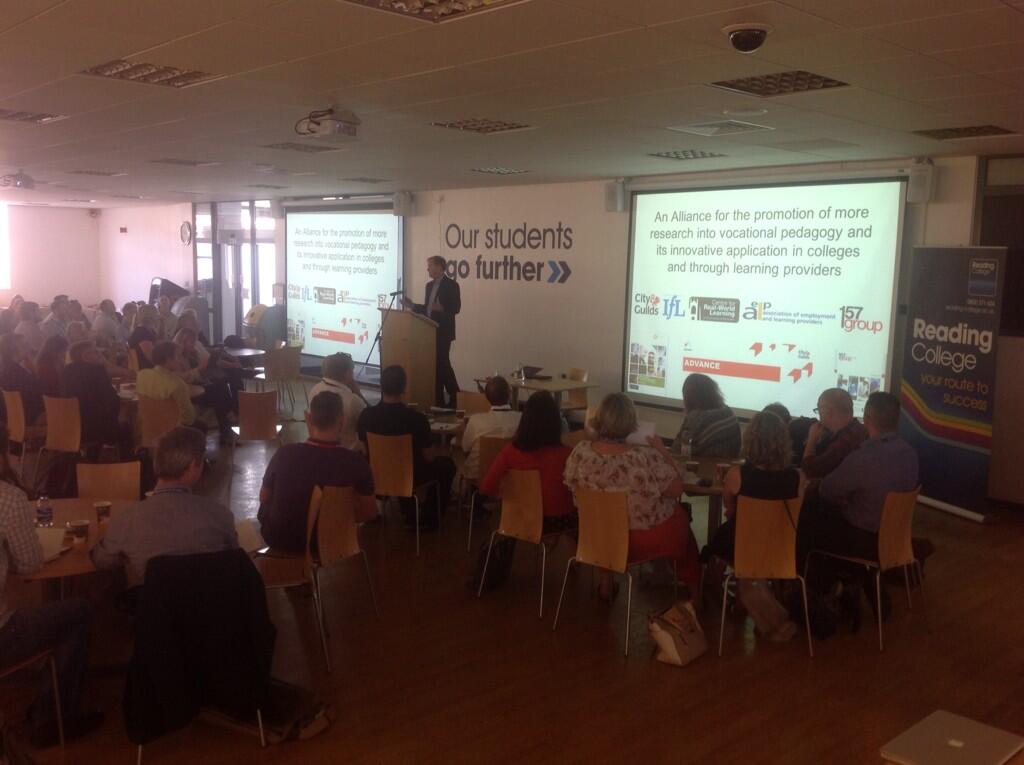 You (Activate Learning staff only) can access Bill's resources here.
Bill stated that vocational pedagogy is worthwhile, complex and far more complicated than other pedagogies. In vocational education, he suggested that we need to move towards a more confident future where our practice is fully underpinned and informed by research and theory.
Pedagogy- the series of decisions teachers take in the moment with the learners for whom they're responsible.
Less than 10% of the people in the room use the word pedagogy.
This is the core of what defines us if we're to be outstanding. Perhaps we just don't like the word or we shy away from its use.
We move beyond our boundaries. For many students, their tipping point lies outside of the traditional learning environment.
The FE place has become so busy that it's become so up itself- the rigorous systems of ticking Ofsted boxes clouds the possibilities for teaching & learning to develop.
He spoke of educators' unintentional blindness- what is it that you've stopped noticing in your practice?
Professional research and enquiry
Professional enquiry will be used to improve learners outcomes, rather than to demonstrate that we're clever clogs.
The biggest effects on student learning occur when teachers are learners.
Research is far more powerful than political borders.
Research journals is becoming a way of being. It's not a project but a long term focus.
This is more than reflective- it's having the evaluative skills to make positive change in our practice.
The 6 Rs
Bill
then spoke of the 6 Rs and their importance in designing a curriculum:
Remembering
Resilience
Reflective
Responsiveness
Reciprocity
Resourcefulness
Resilience is most difficult when answers are ambiguous and/or they're working at the edge of their comfort zone.
Flexibility and responsiveness are crucial.
Reciprocity is the give and take, the social aspect of learning.
Resourcefulness- you need a good toolkit of resources to rely upon- who wants to be a millionaire style?
Piaget- intelligence is knowing what to do when you don't know what to do- having resourcefulness. In order to teach this, we give students a range of practice in a wide variety of contexts, with practise. Aimless practise without structure won't cut it.
The wider skills need to be acknowledged and mapped into students' progress and practice.
Habits of Mind
Habits of mind need to redesign the education system in order for people to think like engineers… Or like anything!
Signature pedagogy- the learning methods we use MUST lead to also developing habits of mind.
We are creatures of habit and habits of mind will be what ultimately transforms our curriculum.
How students see themselves, matters.
How we give feedback in those 1-1 moments is vital.
CBT is worth looking at.
Shock and love students out of one mindset (fixed) into another (growth).
Open badges has the capacity to transform what we're doing with feedback and accountability.
A fixed mindset believes that they're full- students still want to see if they can hand in some work which is 'good enough.'
If we demand more of students, they will commit to that- they will learn more quickly.
Decision making in the classroom
He also said that all decisions that are made in the classroom should first come from deciding between these things:
Attitude to talent (expandable or fixed)
Nature of activities (authentic or contrived)
Attitude to knowledge (questioning or certain)
Means of knowing (practice or theory)
Organisation of time (extended or bell-bound)
Organisation of space (workshop or classroom)
Approach to tasks (group or individual)
Visibility of processes (high or hidden)
Proximity to teacher (virtual or face-to-face)
Role of the teacher (facilitating or didactic)
Not a single one of these can be ruled out as in particular contexts; it will be essential that learning happens in a specific way.
The question all educators should be asking is, 'If I do x, will y be achieved?' and it is crucial to decide what y is first.
Some quotes from staff:
Dax Mares- 'The extra of education, through the Go further weeks, has really lead to the enrichment of our learners' education.'
Scott Reilly- 'We need to think more about the 'y' so that the right 'x' can be decided upon.'
We have to think about:
The contexts
The learner (sometimes damaged/ sometimes deeply passionate but finding themselves having to learn English and maths)
The course- what does it beg of us and the learners?
What do we know about teaching and learning? What do we know about methods that work or not?
Be clear about the goal
Understand the nature of your subject
Be clear about the breadth of desired outcomes
Understand the range of learning methods that may, taken together, provide the best blend
Bear in mind contextual factors
We should be selecting the learning methods that lead to the most learning.
6 broad outcomes of vocational education:
Routine expertise- reliable skill
Resourcefulness- working knowledge and situated reflection
Functional literacies- verbal, written, numerical, graphical, digital
Craftsmanship- pride in a job well-done- they're not just doing this because they're told to. Ron Berger has written about employers as role-models and group critique.
Business skills and attitudes: Commercial, entrepreneurial, social
Wider skills for learning: Perseverance, resourcefulness and other things from before.
Poor models for vocational education in the past have included learning alongside someone more experienced. This doesn't necessarily mean that they're the most positive, clear in explanations and effective teacher that the learner could have.
Doing practical things is just as (if not more) complex than completing quadratic equations.
Doing things with your hands is not less clever than writing or arithmetic- but society, since around 1850 (when wrought in was ignored) has made it that way.