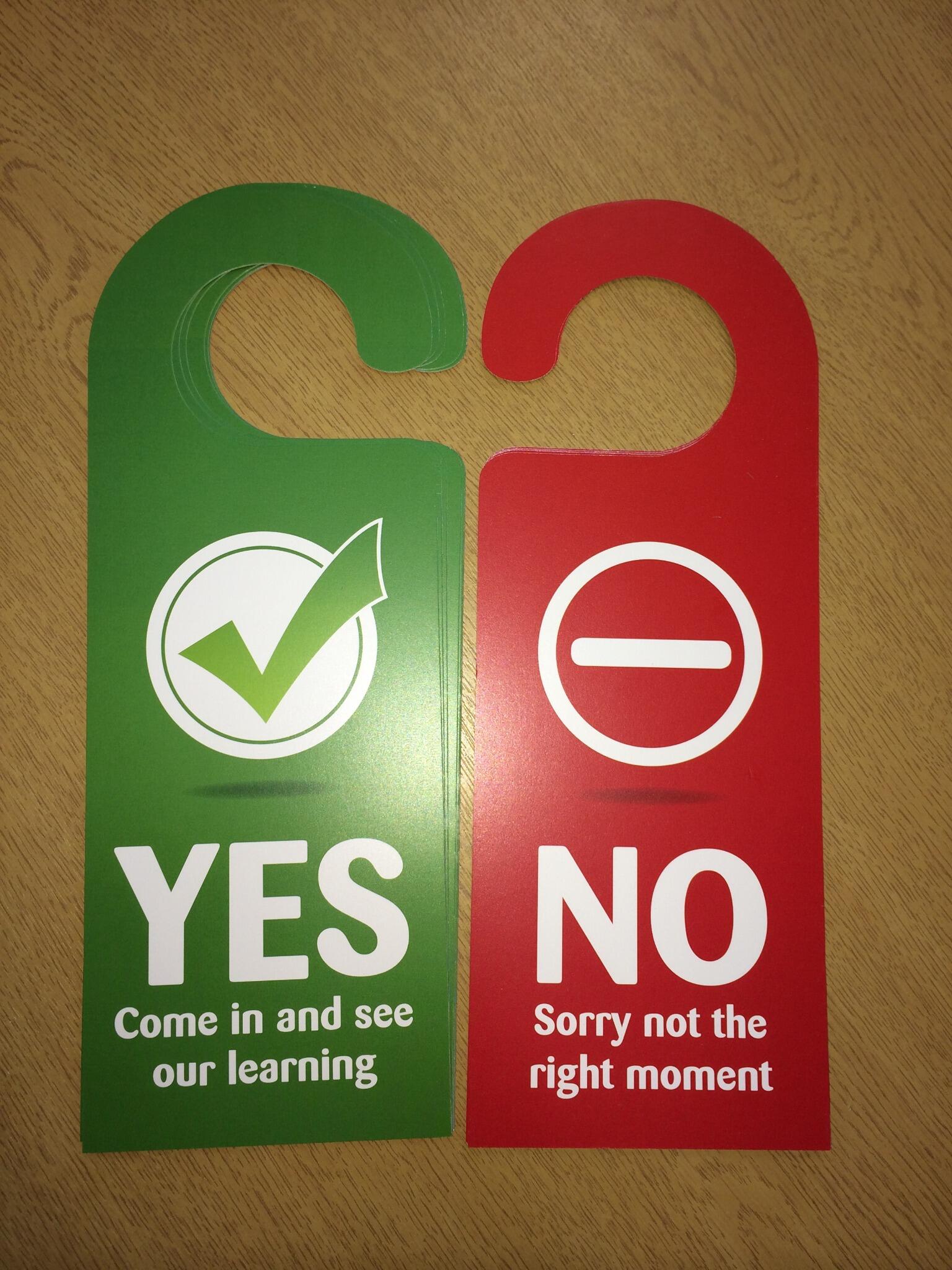 After a visit to Swindon College, the idea of a regular Open Classrooms Week at Reading was born.
Our first week was in November and it generated quite a buzz. We had door signs created that had both red and green sides. Staff were to display these to indicate whether they wanted visitors or not.
We found that staff were welcoming each other into their lessons with open arms.
This is the feedback from staff after they had visited rooms in this week: http://padlet.com/wall/openclass and here is a full review of that week.
We approached the March Open Classrooms Week with a renewed sense of how we could improve the experience for staff. We wanted a schedule of green doors to be shared so that staff could plan a visit rather than endlessly wander the corridors in their 'free' time. This was created in a Google drawing that was updated every day. We also shared a top 5 reasons for taking part in Open Classrooms Week with staff to generate interest in the week leading up to the event.
Top 5
The first can be summed up by a member of staff in the feedback from November:
'I enjoyed the opportunity to see my colleagues teach in a truly informal and non threatening way.'
Observations have a stigma attached to them but this kind of green door visit is a far more friendly way to achieve an insight into your colleagues' teaching in order to inform your own practice.
The second relates to our recent Inspection Report where Ofsted cited the 'green door' as part of the consideration of CPD effectiveness at the College.
'Opportunities for teachers to take part in professional development are plentiful and varied. Much professional development is innovative and makes good use of web technologies to allow teachers to learn at a time that suits them, or collaboratively with colleagues. Staff increase the range of teaching strategies they use with learners by learning from each other. For example, on a 'Green Door' day, teachers hang a green sign on their classroom door to indicate to colleagues that they may come in to observe a lesson.'
The third comes from a Teaching and Learning book. Ross McGill has written an excellent teaching book entitled '100 Ideas for Secondary Teachers'. In it, he references open classrooms.
He says, 'Creating and open door culture in your classroom will not only benefit you as a teacher but also your colleagues, the school and your student community. That's got to be a win-win situation, right?' He also writes about the many benefits: 'They include promoting reflection and evaluation of your teaching, as well as increasing collaboration and trust among teachers and across the curriculum.'
We actually got the idea from a visit that was made to Swindon College. This all goes to show that being aware of what others within the sector and beyond are up to can inform your own practice, perhaps in a hugely transformative way.
The fourth is related to the last Open Classrooms we did. This wall demonstrates the range of opportunities available to you during this week. It's a great time to sit in on a colleague's lesson in the same area as you but much can be gained from having a wider view of the teaching occurring across the whole College. Go it alone and reflect on your own practice or report back to department colleagues at your weekly meeting. Go with colleagues so that you can see and then immediately discuss how what you've seen could improve practice in your area.
The final reason to get involved in open classrooms week is that it's great for your students too! Add a new dimension to the experience: Why not take a student with you on your travels?
'It's been great to discuss my practice with everyone and the students have enjoyed having different individuals in the room to discuss with them what they've been learning.'
'I've really enjoyed seeing so many good examples of student led learning in action across the college.'
'I think it's a great way of getting students used to having visitors to enable them to feel comfortable.'
If you haven't tried Open Classrooms yet in your school or College then we can highly recommend it!
Here are some other posters that might help: